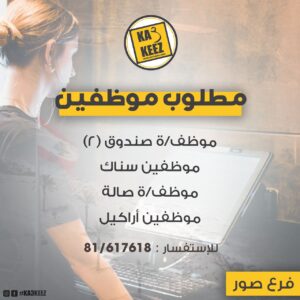 Reputable Supermarket with 7 branches in Beirut (Achrafieh and Hamra) is recruiting PART TIME Cashiers for our Saydeh branch in Achrafieh (near Sassine square):
Our part-time position consists of covering 3 days per week for 3 different shifts:
8 am —> 4 pm
4 pm —> 12 am
12 am —> 8 am
Requirements:
-Preferably 6 months of experience in a similar position.
-Friendly with good customer service and a strong personality. -Preferably living in the nearby areas.
DECENT SALARIES!
Send your CV's to hr@hiboumart.com and please specify which shift/branch you're applying for.
IT Network Administrator is needed in Beirut, 0 – 2 years of experience.
Interested Candidates please send you cv to info@partnersandbeyond.com
مطلوب 3 عمال نظافة للعمل بمركز حمية (دايت سنتر) في جونيه. المهام المطلوبة: غسيل صحون، تنظيف معدات و اعمال تنظيف عامة. على المتقدمين القدرة الجسدية لرفع معدات ثقيلة الوزن. الرواتب تدفع بالدولار والليرة اللبنانية. على المهتمين التواصل على hrradicoleb@gmail.com
Hotel in Qatar, Doha is hiring;
Bellboy (male)
Receptionist(male)
Customer Service Executive (female)
Lobby Hostess(female)
Admin Asistant/Secretary (female with previous experience)
Candidates must:
Speak Arabic and English fluently.
Have hotel experience
Have a passport ready to join immediately
Only those with above requirements can send their cv to haneenjaafar1@gmail.com
We are looking for a Warehouse Supervisor urgently at Anfeh- Lebanon north.
For those who have experience in the Food industry,
Kindly send your CV to: admin@bctslb.com
Waiters and waitresses needed to work in KSA during the Riyadh Season 2022.
From November 22 to January 23.
Requirements:
• Age 21 – 25.
• 1 to 2 years of experience.
• Good English speaking.
• Valid passport.
Benefits:
• Ticket.
• Accommodation.
• Transportation.
• Food Allowance.
Period:
• 3 months, renewable for one time.
• Those who prove themselves can be hired permanently.
Please Send your CV & Photo to: recruitment@samana-business.com
For more info call us on 01-369407
Position: A Senior full-stack developer.
Searching for a Senior Web/app Developer to work at a startup company located on Ghazir Highway – Jounieh.
The company works on developing a cross-platform website and mobile application operating as a third party network between clients and sellers.
You will be part of a young and vibrant team where communication is essential!
You'll be offered a new desktop set up in the office and you'll be required to go to the office in Jounieh. (Accommodation to be provided in case the candidate lives far from Jounieh)
· Full-time
· Start ASAP
What we're looking for:
· Full-time senior web developer
· Minimum 5 years of web and app development work experience.
· Experience in Optimizing Code, Q/A, Node.js, Laravel, PHP, React.js, JavaScript, jQuery, AJAX, HTML5, CSS3, Web Programming Skills, E-Commerce, Teamwork, Verbal Communication, Cross-Browser Compatibility, Web User Interface Design (UI), Security Principles, Object- Oriented Design, Web Services (REST/SOAP), Multimedia Content Development, APIs.
· Experience in planning and delivering software platforms used across multiple products and organizational units.
· Deep expertise and hands-on experience with Web Applications and programming languages such as PHP, JavaScript, AJAX, jQuery, and API.
· Deep functional knowledge or hands-on design experience with Web Services (JSON, XML, REST, SOAP…) is needed to be successful in this position.
· Strong grasp of security principles.
What is expected of you:
· Coding for front-end and back-end.
· Strong understanding of UI, UX, cross-browser compatibility, general web functions, and standards.
· Strong time management and task delegation skills
· Constant communication with colleagues
The Location: The company is based in Dubai but operating from Lebanon.
Why you should apply:
· Work on an exciting cutting-edge platform
· Modern, dynamic work culture (it's not about the hours you put in, but getting stuff done!)
· Salary is competitive and paid in 'fresh' USD!
Apply Now!
email your CV to the HR: Kwilliams@mkmhtec.com
We are hiring.
BoxToGo is Looking for a Marketing Specialist with the following skill set:
Able to communicate with Influencers and bloggers, search and find, finalize the deal with them by creating a monthly Influencers plan with a given budget.
Able to Create a social media plan and manage our social media channels.
Communicate with clients on social media platforms and answer their inquiries.
BoxTogo offers a good working environment and a good Salery.
Flexibility of working remotely or In our office in:
Business address: Beirut Khalde Khat ALremal.
Please send cv to: info@boxtogo.com
Or communicate on WhatsApp on this number: +96170390348
We are HIRING!!
1-PERSONAL TRAINERS
2-HIP HOP TRAINERS
3-BELLY DANCE TRAINERS
4-BALLET TRAINERS
5-AEROBIC TRAINERS
If interested, kindly attach resume to info@fitnessroadlb.com or contact us on 70/734459 for more info.
(SHOUF AREA ONLY)
مطعم موجود في ال City center-hazmeih
بحاجة الى الوظائف التالية:
موظف صندوق-مساعد شيف مطبخ-موظف صالة للتواصل
☎️03147397
مطلوب موزع بريد ذو خبرة مع دراجة نارية ضمن منطقة بيروت و ضواحيها.
دوام كامل
للتواصل على الرقم التالي : 03954683
Below vacancies in reputable company in Beirut are needed:
• Senior Sales Officer
• Procurement Officer
• OPERATION MANAGER
• CLEANING SUPERVISOR
TO WHOM ARE INTERESTED, KINDLY SEND YOUR CV TO:
hire.pss@outlook.com
Please add "Vacancy Name" in Email Subject.
Barista needed for a coffee shop in Ashrafieh near Sassine.
Requirements:
– Experience with coffee shop services, cocktails, crepe waffle and pancake.
– Preferably living around.
– Salary 300$.
– Contact number: 03/637616
Looking for a Cashier at Stop and Shop Antelias branch
Part time job
No experience needed
Age between 18-25
provides a positive customer experience with fair , friendly , and courteous service .
registers sales on a cash register by scanning items , itemizing and totaling customers purchases . Resolves customer issues and answer questions.
Avance School and Association for children with epilepsy and with learning difficulties is recruiting for its new branch in the Hadath area: Pedagogues, Specialized Educators, Preschool teacher, public relation, Social Worker, Psychologist, Occupational Therapist, Psychomotor therapist, Speech therapist, Physiotherapist, Nurse, musician, seamstress, Educational Manager, Hairdressing and nail care Manicurist…
Please send your CV by email: epilepsie.liban@hotmail.com or contact us on 71022044